Technical Courses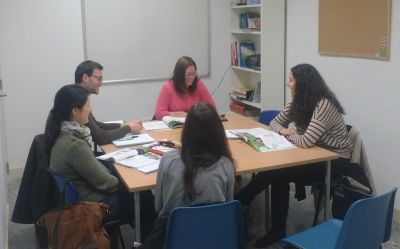 In a globalized world, the importance of learning a second language takes on a main role in job search and professional promotion.
At Tec we are aware of this situation and therefore offer these courses oriented to these motivations. Thus, we provide courses in English for business, legal English, medical, healthcare, journalistic and technological English.
All our activities are focused on the immediate implementation of the skills developed in our courses.

We train for the following work areas:
Legal English (Lawyer English).
Cabin Crew (Tripulante de cabina).
Business:-Comunication//Vocabulary-Telephone Calls-Organization of a company.
Presentaciones (Business communication skills).
Working in English (Actividades diarias).
Engineering (ingenieros).
Job-Hunting (CV y busqueda de empleo)
Hotel employees (Hostelería, comercio, restauración.....).
Nursing (enfermería)
Medicine (Medicina en general).
Marketing.
TRANSLATION AND INTERPRETATION

We have at your disposal a translation cabinet for documents of business, technical, or private nature. Our reference languages are Spanish, English, German and Russian.
We provide a non-binding estimate detailing the concepts involved in the billing. We also offer interpretation services for meetings of technical and professional nature.